The dashboard
The dashboard allows the user to compile an individual overview of various windows / fields of work. It can also be set as personal starting page (
Options
- settings).
Here you can, for example, combine
queries
from applicant lists with current
news
and user-defined statistics.
You can customize the page by selecting the desired components using the top level menu > Add a widget - function.

Then a window opens where you can view the widgets as a preview.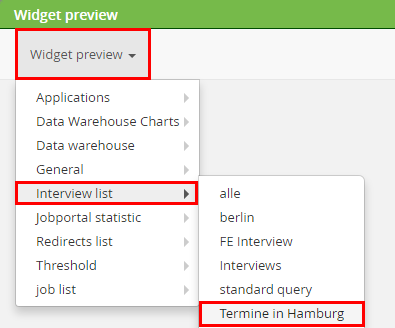 With a click on "Add a widget…" the selected widget will be added to your dashboard.

You can change the order by using drag and drop. Once the cursor is on the title bar the widget can be moved.
Clicking on the x in the top right will remove individual widgets from the overview.

A defined threshold (->
Datawarehouse
) is displayed in a tacho chart layout. This feature is solely available here.
It is also possible that an
Admin
sets the Dashboard for other users.

View
: This is a hidden selectbox (SB) that can be edited via Mouseover. The currently logged in user is set per default. By clicking on the SB, a list of all users that have the right "See Dashboard" is shown. The Dashboard is then displayed as currently set for the respective user. Also private widget
queries
are shown.
However, user rights that restrict the view of certain data are still valid - i.e. the Admin can not open applicants files via the widget queries for which he has no access rights.
After having chosen a user, the Dashboard is displayed as set for/by this user. Changes made by the Admin have an instant effect on the other user's Dashbord. "Add Widget" contains exactly the Widgets accessible by the other user - including private queries.
Copy view to other user
: This help function enables an Admin to simultaneously set the same Dashboard for other users. The blue person's icon opens a list of users to choose from. The list only contains users that have the right "See Dashboard". The selected users are given the Dashboard as currently shown for the Admin. In case of conflicts due to private queries, a warning appears after finalising the setting: "...Widget "#Widgetname" could not be allocated to #User_1,User_n..."